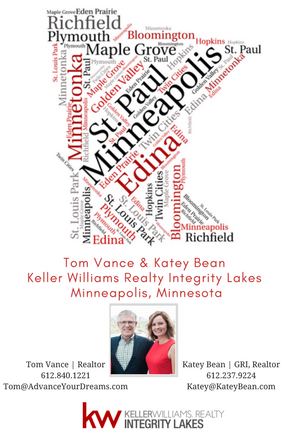 Relocation to the Twin Cities . . . Meet your Minneapolis Resource
Why choose us for your Relocation Clients . . . We provide clients with exceptional service ensuring discretion, attention to detail and prompt and efficient communication, while maximizing connections with our extensive networks resulting in an experience that exceeds buyers and sellers expectations and promotes a trusted lifelong referral relationship. My team has a combined 30+ years of servant leadership & real estate experience. We are former ALC members, an Operating Partner, investors, BOLD graduates, GRI certified, Luxury Homes Specialist and we have a full time licensed Realtor Marketing & Operational assistant dedicated to our clients and us. We live in, work in and LOVE the Minneapolis area.
What our Relocation partners have to say about us?
"OMGee, you guys are the bees knees! We just got your letter and… Wow, so love that we found your being, you guys rock! Thank you so much for everything!… You guys will get all my MN referrals and I'll spread the word on this coast for colleages to refer to you as well. Let us know when we can give such rockstar service to any west coaster referrals for real estate… Thanks again and hope to squeeze your beings and a KW event soon:)"
– John Grecio, KW Seattle
"Tom and his team have been amazing at getting properties sold in the Minneapolis and surrounding areas! I referred Tom to a good friend of my Mom's that had his childhoos home on the market for nearly over a year (I believe) with no activity! He was able to get it listed and sold I believe before it even hit the market! I then referred Tom a friend from High School that had her Father's home listed and was not getting the service or activity she kept seeing I was getting on Facebook. She would reach out and I would give her ideas of what to do and what to say to her agent, then finally I suggested she meet with Tom. He and his team did it again!! They helped her out and got her parents home sold. I think and so do the people that I have referred him to, that his team is awesome"
– Jackie Mihalchick KW Colorado
"My client interviewed other agents and felt the most comfortable with Tom. He found a property that was right for her very shortly after they began working together. Given the opportunity I would refer others to Tom Vance."
– Brian Davis KW San Diego
"Tom really exceeded expectations with my client. He was mindful of their needs and available on their time. I would certainly send ALL of my referrals in MN to Tom."
– Robert Francis